Image Comics August 2023 Solicitations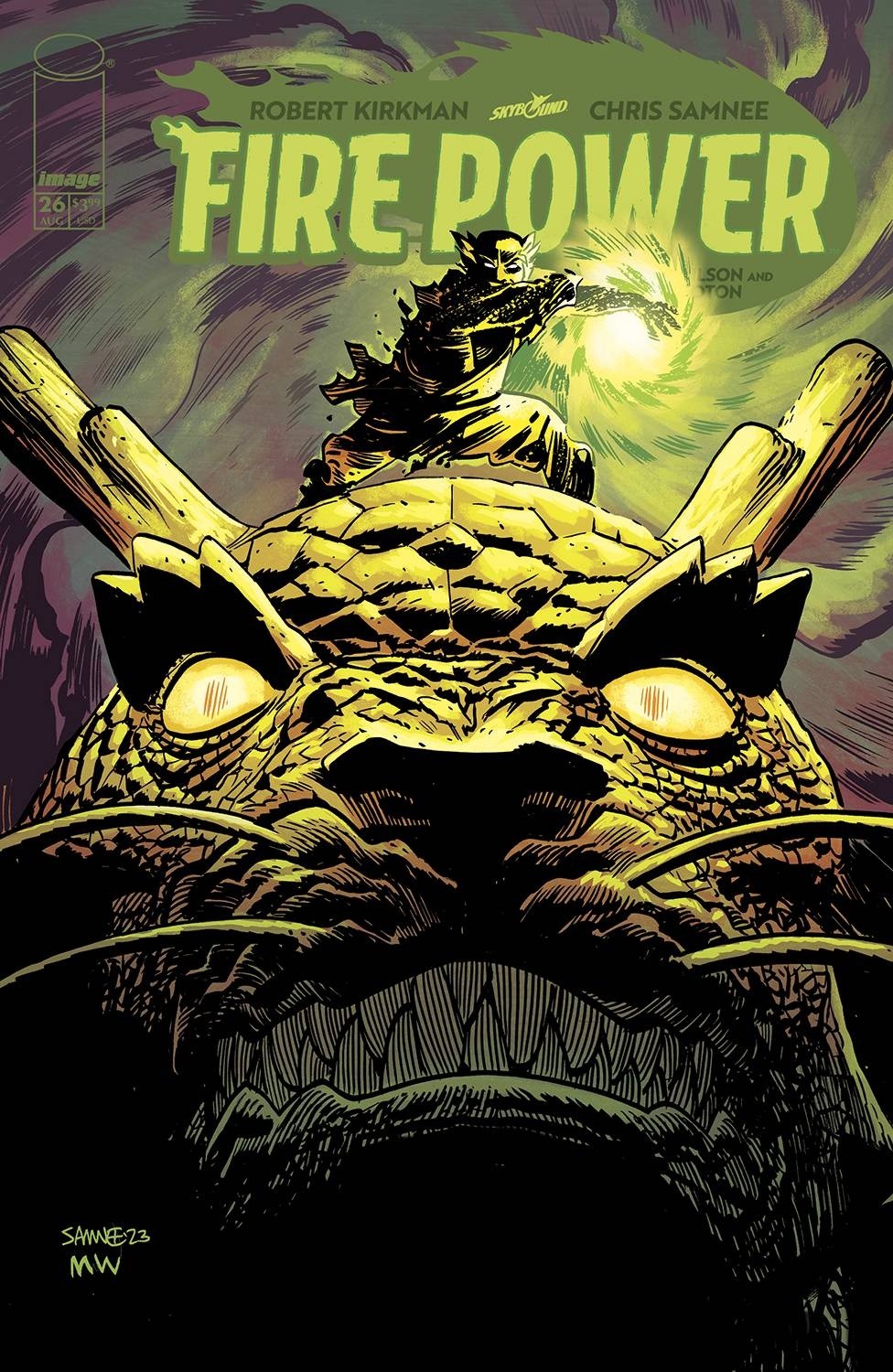 Image Comics August 2023 Solicitations
The Image Comics August 2023 solicitations are here!
Common abbreviations
TP/TPB: Trade Paperback
SC: Softcover (like a TPB)
HC: Hardcover
FC: Full Color
DM: Direct Market. This refers primarily to comic book stores or online shops that order via the same means as a comic book store (primarily Diamond or Lunar). Places like Amazon or Barnes and Noble will generally NOT have these variants.
FOC: Final Order Cutoff – The time an order has to be submitted by the vendor. Also when you need to get your order in by at TalesofWonder for preorders.
RES: Resolicit – A new listing for a product that was previously solicited in PREVIEWS or New to Order, and which is being listed anew since the original Solicitation was cancelled either by the vendor or by Diamond.
O/A: Offered Again – This designates an item that has been previously solicited and released, but is being solicited again.
ALL DATES ARE SUBJECT TO CHANGE DUE TO PAPER SHORTAGES, PRINTER JAMS, AND SHIPPING CONFLICTS.
A RIGHTEOUS THIRST FOR VENGEANCE DELUXE EDITION HC
WRITER: Rick Remender
ARTIST / COVER A: André Lima Araújo
JULY 19 / 336 pages / FC/ M / $39.99
When an unassuming man stops vicious dark web contract assassins from killing their target, he turns himself into one. A quiet, atmospheric slice-of-life story with sudden bouts of unique and brutal violence. New York Times-bestselling writer RICK REMENDER (SEVEN TO ETERNITY, DEADLY CLASS) and mega-star artist ANDRÉ LIMA ARAÚJO (GENERATION GONE, THE WICKED + THE DIVINE) present the story of an unlikely surrogate to a boy hunted by powerful men who are used to getting away with everything. The entirety of the critically acclaimed series A RIGHTEOUS THIRST FOR VENGEANCE is collected here in one giant prestige edition, loaded with variant covers, sketches, model sheet designs, raw inks, and script pages and presented in the ultimate oversized format to enjoy this groundbreaking series.Collects A RIGHTEOUS THIRST FOR VENGEANCE #1-11
Art Brut, Vol. 1 (HC)
WRITER: W. Maxwell Prince
ARTIST / COVER A: Martín Morazzo, Mat Lopes
AUGUST 23 / 136 pages / FC/ / $19.99
"A fantastically imaginative take on 60s adventure comics, but with their own special twist set in the weird world of art galleries." —Monkeys Fighting RobotsPresenting here the first major work from the creative minds behind ICE CREAM MAN—re-lettered, remastered, and under its original intended name! The world of fine art is falling apart, and only ART BRUT knows how to fix it. Alongside the Bureau of Artistic Integrity, Arthur Brut the Mad Dreampainter (and his trusty sidekick, Manny the Mannequin) must dive back into the very paintings that made him insane…or reality itself might just crumble to pieces. A colorful, gonzo romp through art and art history, ART BRUT is equal parts police procedural, hyper-fantasy, and psychological thriller—a veritable Pollock-splatter of comics genres tossed onto one giant pulpy canvas! Each chapter features new cover art, new design, and a new Silver Age-style backup story featuring the art hero that no one's ever heard of—until now! Originally published under the title The Electric Sublime, this special hardcover edition presents the NPR-lauded, critically acclaimed material in its intended form.Collects ART BRUT #1-4
The Complete Witchblade, Vol. 3 (TPB)
WRITER: Christina Z., Paul Jenkins, David Wohl, Rick Veitch
ARTIST: Brian Ching, Randy Green, Francis Manapul, Keu Cha
COVER A: Keu Cha
AUGUST 23 / 640 pages / FC/ M / $29.99
In this third absolute collection of the bestselling original series WITCHBLADE, NYC Detective Sara Pezzini is back from her foray into the Underworld. As she emerges with FULL power over the Witchblade and makes her final attempt to banish the creatures back to the underworld from whence they came, she is also given a clue as to the true nature of the Witchblade. Collects WITCHBLADE #37-57, DESTINY'S CHILD #1-3, and WITCHBLADE/LADY DEATH #1
AMBASSADORS TP VOL 01 (MR)
WRITER: Mark Millar
ARTIST: Matteo Buffagni, Karl Kerschl, Olivier Coipel, Travis Charest, Matteo Scalera, Frank Quitely
AUGUST 09 / 184 pages / FC/ / $19.99
STL259881
ARROWSMITH SO SMART IN THEIR FINE UNIFORMS TP (MR)
WRITER: Kurt Busiek
ARTIST: Carlos Pacheco, Alex Sinclair
AUGUST 23 / 160 pages / FC/ T / $16.99
STL261491
CLASSWAR TP (MR)
WRITER: Rob Williams
ARTIST: Travel Foreman, Trevor Hairsine
AUGUST 02 / 184 pages / FC/ / $16.99
STL149894
HEXWARE TP VOL 01 (MR)
WRITER: Tim Seeley
ARTIST: ZULEMA SCOTTO LAVINA
AUGUST 09 / 144 pages / FC/ / $16.99
STL270438
LAST BARBARIANS TP VOL 01
WRITER: Brian Haberlin
ARTIST: Brian Haberlin, Geirrod van Dyke
AUGUST 30 / 144 pages / FC/ / $19.99
STL280381
LOW COMPENDIUM TP (MR)
WRITER: Rick Remender
ARTIST: Dave McCaig, Greg Tocchini
AUGUST 23 / 712 pages / FC/ — / $49.99
STL279722
NAILBITER COMPENDIUM TP VOL 01 (MR)
WRITER: Joshua Williamson
ARTIST: Adam Guzowski, John J. Hill, Mike Henderson
AUGUST 30 / 744 pages / FC/ M / $49.99
STL261490
NIGHT CLUB TP VOL 01 (MR)
WRITER: Mark Millar
ARTIST: JUANAN RAMÍREZ
AUGUST 30 / 176 pages / FC/ / $16.99
STL256002
PLUSH TP (MR)
WRITER: Doug Wagner
ARTIST: Daniel Hillyard, Rico Renzi
AUGUST 09 / 160 pages / FC/ / $19.99
STL255999
LITTLE MONSTERS TP VOL 02 (MR)
WRITER: Jeff Lemire
ARTIST: Dustin Nguyen
AUGUST 16 / 184 pages / FC/ M / $16.99
STL261481
MAGIC ORDER TP VOL 04 (MR)
WRITER: Mark Millar
ARTIST: Dike Ruan
AUGUST 16 / 176 pages / FC/ M / $19.99
STL259880
ORDINARY GODS TP VOL 02 (MR)
WRITER: Joe Clark, Kyle Higgins
ARTIST: Frank William, Felipe Watanabe
AUGUST 23 / 168 pages / FC/ M / $16.99
STL214858
SPAWN ORIGINS TP VOL 26
WRITER: David Hine
ARTIST: Philip Tan
AUGUST 02 / 176 pages / FC/ T / $16.99
STL279728
TIME BEFORE TIME TP VOL 04 (MR)
WRITER: Rory McConville, Declan Shalvey
ARTIST: Jorge Coehlo, Chris O'Halloran
AUGUST 02 / 128 pages / FC/ M / $16.99
STL255992
WHATS THE FURTHEST PLACE FROM HERE TP VOL 02
WRITER: Matthew Rosenberg
ARTIST: Tyler Boss
AUGUST 23 / 152 pages / FC/ T+ / $14.99
STL272881
SACRIFICERS #1
WRITER: Rick Remender
ARTIST: Dave McCaig, Max Fiumara
AUGUST 02 / 40 pages / FC/ — / $3.99
STL278487
SCHLUB #1
WRITER: Ryan Stegman
ARTIST: Mike Spicer, John J. Hill
AUGUST 23 / 24 pages / FC/ — / $3.99
STL278496
CULL #1 (OF 5)
WRITER: Kelly Thompson
ARTIST: Mattia De Iulis
AUGUST 16 / 24 pages / FC/ — / $3.99
STL278479
ENFIELD GANG MASSACRE #1 (OF 6) (MR)
WRITER: Chris Condon
ARTIST: Jacob Phillips
AUGUST 09 / 32 pages / FC/ — / $3.99
STL278502
KAPTARA UNIVERSAL TRUTHS #1 (OF 6) (MR)
WRITER: Chip Zdarsky
ARTIST: Kagan Mcleod
AUGUST 30 / 32 pages / FC/ T+ / $3.99
STL278503
QUEST #1
WRITER / ARTIST: Jonathan Luna
AUGUST 02 / 32 pages / FC/ — / $3.99
STL278504
LOCAL MAN GOLD
WRITER / ARTIST: Tim Seeley, Tony Fleecs
AUGUST 30 / 40 pages / FC/ / $4.99
STL278507
ANTARCTICA #2
WRITER: Simon Birks
ARTIST: Wili Roberts
AUGUST 16 / 32 pages / FC/ — / $3.99
STL278819
ARCADE KINGS #4 (OF 5)
WRITER: Dylan Burnett
ARTIST: Dylan Burnett, Sara Antonellini, Walter Baiamonte
AUGUST 16 / 48 pages / FC/ / $7.99
STL278821
BATTLE CHASERS #12
WRITER: Joe Madureira
AUGUST 23 / 32 pages / FC/ T / $3.99
STL278825
BIG GAME #2 (OF 5)
WRITER: Mark Millar
ARTIST: Pepe Larraz
AUGUST 23 / 32 pages / FC/ — / $4.99
STL278829
BONE ORCHARD TENEMENT #3 (OF 10)
WRITER: Jeff Lemire
ARTIST: Andrea Sorrentino, Dave Stewart
AUGUST 23 / 32 pages / FC/ / $3.99
STL278832
DEAD ROMANS #6 (OF 6)
WRITER: Fred Kennedy
ARTIST: Nick Marinkovich
AUGUST 23 / 32 pages / FC/ / $3.99
STL278835
DEEP CUTS #5 (OF 6)
WRITER: Joe Clark, Kyle Higgins
ARTIST: Juni Ba
AUGUST 23 / 56 pages / FC/ / $5.99
STL278840
FIRE POWER BY KIRKMAN & SAMNEE #26
WRITER: Robert Kirkman
ARTIST: Matthew Wilson, Chris Samnee
AUGUST 23 / 24 pages / FC/ T / $3.99
STL278841
GUNSLINGER SPAWN #23
WRITER: Todd McFarlane
ARTIST: Brett Booth
AUGUST 09 / 24 pages / FC/ T+ / $2.99
STL278842
HAUNT YOU TO THE END #3
ARTIST: Andrea Mutti
AUGUST 09 / 32 pages / FC/ / $3.99
STL278844
HEY KIDS COMICS VOL 03 SCHLOCK OF THE NEW #5 (OF 6) (MR)
WRITER / ARTIST: Howard Chaykin
AUGUST 02 / 32 pages / FC/ M / $3.99
STL278846
I HATE FAIRYLAND #8
WRITER: Skottie Young
ARTIST: Brett Bean
AUGUST 16 / 32 pages / FC/ M / $3.99
STL278847
IMMORTAL SERGEANT #8 (OF 9)
WRITER: Joe Kelly
ARTIST: Ken Niimura
AUGUST 23 / 40 pages / BW/ / $3.99
STL278850
IN HELL WE FIGHT #3
WRITER: John Layman
ARTIST: Jok
AUGUST 16 / 32 pages / FC/ / $3.99
STL278851
INDIGO CHILDREN #6 (MR)
WRITER: Rockwell White, Curt Pires
ARTIST: Alex Diotto, Dee Cunniffe
AUGUST 23 / 40 pages / FC/ / $3.99
STL278854
JUNK RABBIT #5 (OF 5)
WRITER / ARTIST: Jimmie Robinson
AUGUST 02 / 32 pages / FC/ / $3.99
STL278855
KAYA #11
WRITER / ARTIST: Wes Craig
AUGUST 23 / 32 pages / FC/ / $3.99
STL278858
KING SPAWN #25
WRITER: Sean Lewis
ARTIST: Javi Fernandez
AUGUST 16 / 24 pages / FC/ T+ / $2.99
STL278860
KLIK KLIK BOOM #3 (OF 5) (MR)
WRITER: Doug Wagner
ARTIST: Doug Dabbs, Matt Wilson
AUGUST 23 / 32 pages / FC/ / $3.99
STL278862
LOVE EVERLASTING #10
WRITER: Tom King
ARTIST: Elsa Charretier
AUGUST 02 / 24 pages / FC/ / $3.99
STL278863
MONSTRESS #47 (MR)
WRITER: Marjorie Liu
ARTIST: Sana Takeda
AUGUST 30 / 32 pages / FC/ M / $3.99
STL278865
NEWBURN #10 (MR)
WRITER: David Brothers, Chip Zdarsky
ARTIST: Jacob Phillips, Nick Dragotta
AUGUST 23 / 32 pages / FC/ M / $3.99
STL278866
NO ONE #6 (OF 10)
WRITER: Brian Buccellato, Kyle Higgins
ARTIST: Geraldo Borges
AUGUST 16 / 32 pages / FC/ / $3.99
STL278867
PAKLIS #7 (MR)
WRITER / ARTIST: Dustin Weaver
AUGUST 02 / 56 pages / FC/ T+ / $5.99
STL278918
PURR EVIL #2 (OF 6)
WRITER: Mirka Andolfo
ARTIST: Laura Braga
AUGUST 30 / 32 pages / FC/ M / $3.99
STL278870
RADIANT BLACK #26
WRITER: Joe Clark, Kyle Higgins
ARTIST: Marcelo Costa, Eduardo Ferigato
AUGUST 23 / 32 pages / FC/ / $3.99
STL278874
ROGUE SUN #15
WRITER: Ryan Parrott
ARTIST: Abel
AUGUST 16 / 32 pages / FC/ T+ / $3.99
STL278876
SAVAGE STRENGTH OF STARSTORM #4
WRITER: Drew Craig
ARTIST: Drew Craig, Jason Finestone
AUGUST 30 / 32 pages / FC/ / $3.99
STL278878
SPAWN SCORCHED #21
WRITER: Sean Lewis
ARTIST: STEPHEN SEGOVIA
AUGUST 23 / 24 pages / FC/ / $2.99
STL278887
SCRAPPER #2 (OF 6)
WRITER: Cliff Bleszinksi, Alex de Campi
ARTIST: Sandy Jarrell
AUGUST 23 / 32 pages / FC/ — / $3.99
STL278880
SOMETHING EPIC #4
WRITER / ARTIST: Szymon Kudranski
AUGUST 16 / 32 pages / FC/ / $3.99
STL278881
SPAWN #345
WRITER: Rory McConville
ARTIST: Carlo Barberi
AUGUST 30 / 24 pages / FC/ T / $2.99
STL278885
STARSIGNS #4 (MR)
WRITER: Saladin Ahmed
ARTIST: Kelly Fitzpatrick, Megan Levens
AUGUST 16 / 32 pages / FC/ / $3.99
STL278889
STONEHEART #6 (MR)
WRITER / ARTIST: Emma Kubert
AUGUST 09 / 32 pages / FC/ / $3.99
STL278890
SUMMONERS WAR AWAKENING #5 (OF 6)
WRITER: Justin Jordan
ARTIST: Igor Monti, Luca Claretti
AUGUST 23 / 32 pages / FC/ T / $3.99
STL278891
SWAN SONGS #2
WRITER: W. Maxwell Prince
ARTIST: Caspar Wijngaard
AUGUST 09 / 32 pages / FC/ M / $3.99
STL278892
TALES OF SYZPENSE #2
WRITER: T.P. Louise, Ashley Wood, Chris Ryall
ARTIST: Ashley Wood
AUGUST 16 / 40 pages / FC/ / $4.99
STL278919
TERRORWAR #5 (MR)
WRITER: Saladin Ahmed
ARTIST: Dave Acosta, Jay Leisten
AUGUST 23 / 32 pages / FC/ / $3.99
STL278895
TIME BEFORE TIME #26
WRITER: Rory McConville, Declan Shalvey
ARTIST: Geoffo, Chris O'Halloran
AUGUST 23 / 32 pages / FC/ M / $3.99
STL278896
UNTOLD TALES OF I HATE FAIRYLAND #2 (OF 5) (MR)
WRITER / ARTIST: Morgan Beem, Dean Rankine
AUGUST 09 / 32 pages / FC/ / $3.99
STL278898
UNDISCOVERED COUNTRY #25
WRITER: Charles Soule, Scott Snyder
ARTIST: Leonardo Marcello Grassi, Giuseppe Camuncoli, Matt Wilson
AUGUST 23 / 32 pages / FC/ M / $3.99
STL278916
VOID RIVALS #3
WRITER: Robert Kirkman
ARTIST: Matheus Lopes, Lorenzo De Felici
AUGUST 16 / 32 pages / FC/ / $3.99
STL278899
WALKING DEAD DLX #68
WRITER: Robert Kirkman
ARTIST: Dave McCaig, Charlie Adlard
AUGUST 02 / 32 pages / FC/ M / $3.99
STL278905
WALKING DEAD DLX #69
WRITER: Robert Kirkman
ARTIST: Dave McCaig, Charlie Adlard
AUGUST 16 / 32 pages / FC/ M / $3.99
STL278908
WEIRD WORK #2 (OF 4)
WRITER: Jordan Thomas
ARTIST: Shaky Kane
AUGUST 09 / 40 pages / FC/ / $3.99
STL278912
W0RLDTR33 #5
WRITER: James Tynion IV
ARTIST: Fernando Blanco, Jordie Bellaire
AUGUST 30 / 32 pages / FC/ / $3.99
STL278900