IDW February 2024 Solicitations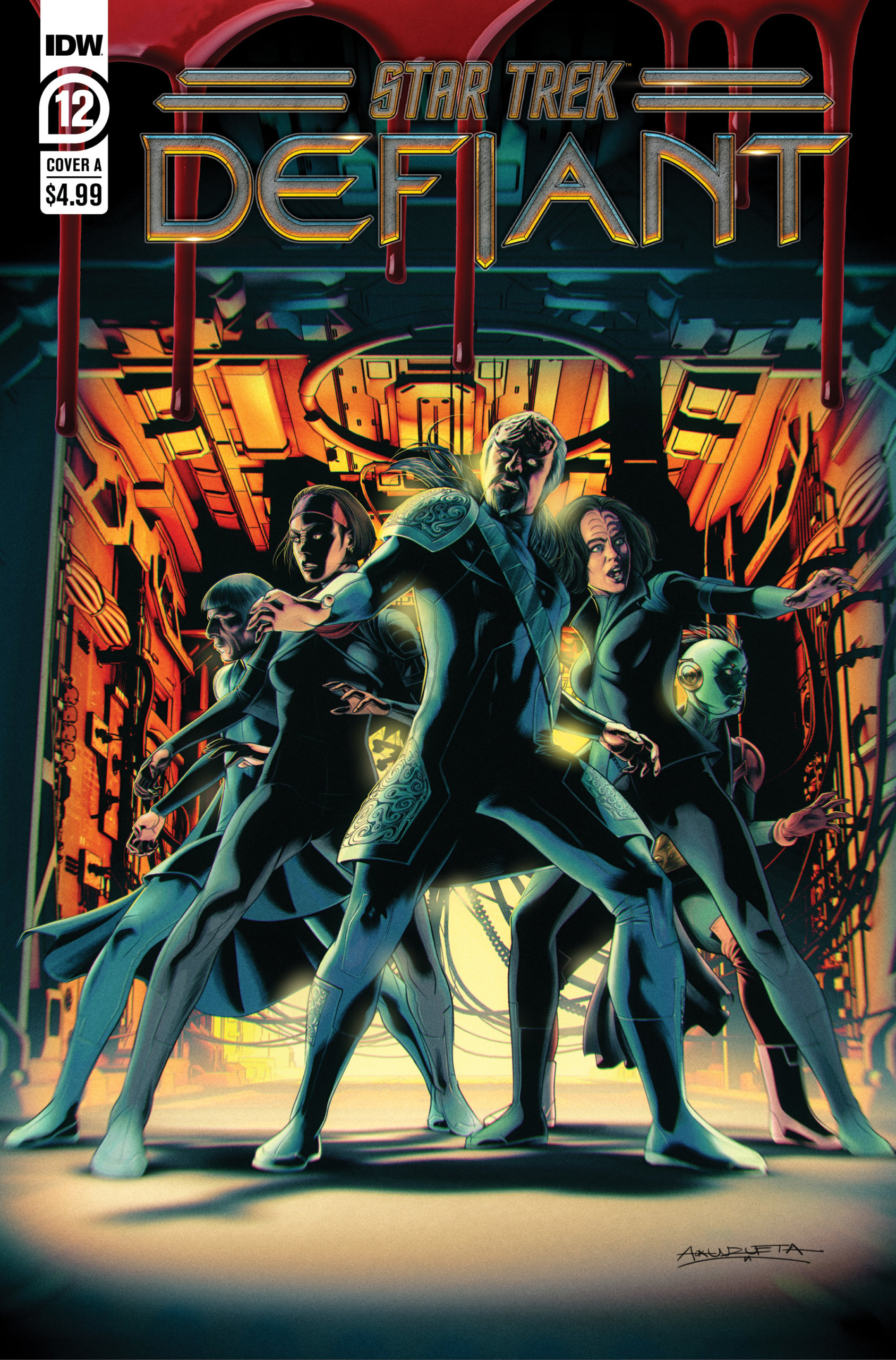 IDW February 2024 Solicitations
Common abbreviations
TP/TPB: Trade Paperback
SC: Softcover (like a TPB)
HC: Hardcover
FC: Full Color
DM: Direct Market. This refers primarily to comic book stores or online shops that order via the same means as a comic book store (primarily Diamond or Lunar). Places like Amazon or Barnes and Noble will generally NOT have these variants.
FOC: Final Order Cutoff – The time an order has to be submitted by the vendor. Also when you need to get your order in by at TalesofWonder for preorders.
RES: Resolicit – A new listing for a product that was previously solicited in PREVIEWS or New to Order, and which is being listed anew since the original Solicitation was cancelled either by the vendor or by Diamond.
O/A: Offered Again – This designates an item that has been previously solicited and released, but is being solicited again.
ALL DATES ARE SUBJECT TO CHANGE DUE TO PAPER SHORTAGES, PRINTER JAMS, AND SHIPPING CONFLICTS.
Mary Tyler MooreHawk
Author(s): Dave Baker
Artist(s): null
$29.99 US | 276 pages | 5-5/8 x 10-1/16 | Hardcover | 9781603095365
On Sale: 2024-02-13
Jonny Quest meets Infinite Jest! This mind-bending book—half graphic novel, half postmodern mystery, and 25% footnotes—is a thrilling tribute to the ways we build meaning out of disposable pop culture.
WHO IS MARY TYLER MOOREHAWK? How did she save the world from a dimension-hopping megalomaniac? Why was her TV show canceled after only nine episodes? These are just a few of the questions that young journalist Dave Baker begins to ask himself as he unravels the many mysteries surrounding the obscure comic book Mary Tyler MooreHawk. However, his curiosity grows into an obsession when he discovers that the reclusive creator of his favorite globe-trotting girl detective…is also named Dave Baker.
WHAT IS MARY TYLER MOOREHAWK? A compilation of long-lost gee-whiz adventure comics in which the world's strangest family fights to avert Armageddon…and a bundle of magazine articles from a dystopian future where physical property is banned and entertainment is broadcast on dishwashers. It's a document-based detective story that weaves back and forth between worlds, touching on everything from corporate personhood to mutant shark-men to the meaning of fandom and reality itself. It's a show you don't remember…and a book you won't forget.
WAIT, IS THIS REAL? Good question.
Earthdivers, Vol. 2: Ice Age
Author(s): Stephen Graham Jones
Artist(s): Riccardo Burchielli
$15.99 US | 104 pages | 6-5/8 x 10-3/16 | Trade Paperback | 9798887240688
On Sale: 2024-02-27
Guest artists Riccardo Burchielli (DMZ), Patricio Delpeche, and Emily Schnall join Stephen Graham Jones—New York Times best-selling author of The Only Good Indians and My Heart Is a Chainsaw—for a mission to the Ice Age exploring America's pre-Columbian past!
When Martin and Tawny's children disappeared, the couple barreled into the desert to track them down at any cost. Instead, they ran afoul of another group of rovers who claimed to be saving the world by traveling through a cave portal to the year 1492 to prevent the creation of America—an idea that defied belief until the grieving parents were lured into the cave and vanished in time and space.
Now alone, Tawny must adapt to the wild marshlands of prehistoric Florida, circa 20,000 BC, and the breathtaking and bloodthirsty megafauna are the least of her problems when she's caught in a war between a community of native Paleo-Indians and an occupying Solutrean force. Tawny's odds of survival are in free fall, but she's a mother on a mission…and she's holding on to hope that the cave brought her here for a family reunion.
In the tradition of Saga, the next chapter of the critically acclaimed sci-fi epic is here in Earthdivers Vol. 2. Collects Earthdivers #7-10.
My Little Pony, Vol. 3: Cookies, Conundrums, and Crafts
Author(s): Robin Easter, Casey Gilly
Artist(s): Amy Mebberson, Abby Bulmer, Shauna Grant
$9.99 US | 120 pages | 6 x 9 | Trade Paperback | 9798887240589
On Sale: 2024-02-06
Scares, mysteries, and adventures await the Mane 5 in this collection of stories featuring the new generation of ponies!
Spooky! Scary! Ahh!!! are all words that can be used to describe the latest challenge going viral in Maretime Bay. Pipp, never one to shy away from a trend, persuades her friends to try it. But as the challenge gets creepier, an unexpected friend starts to come to life! Can the Mane 5 survive the fright of their lives? Then, have you heard? Hitch has his very own podcast! Maretime Bay's cold cases are reopened by the sheriff himself. Mysteries, crimes, and disappearances will all be solved with Hitch on the case!
It's the annual cook-off in Maretime Bay, and this year is the first time Pegasi and Unicorns can compete! The Mane 5 are excited to work together to make something great, but when the competition actually begins, they find they can't agree on a dish. Then, Izzy's babysitting her cousin Violette Rainbow, who often gets blamed when things go wrong, but is it really her fault?
Finally, Izzy decides to fix up an old treehouse next to her home and make it a cool hangout for the Mane 5, but she finds it's more work than she can handle alone. Luckily, she has a group of friends willing and ready to help! The adventures continue in these stories following the magical events of the hit Netflix movie.
Collects issues #11–15 of the ongoing comic series by writers Casey Gilley, Robin Easter, Tee Franklin, and Andrea Hannah with artists Abby Bulmer, Amy Mebberson, Shauna J. Grant, and Abigail Starling.
Star Trek: Deep Space Nine–The Dog of War
Author(s): Mike Chen
Artist(s): Angel Hernandez
$19.99 US | 136 pages | 6-5/8 x 10-3/16 | Trade Paperback | 9798887240749
On Sale: 2024-02-13
Don't miss out on this exclusive "lost episode" celebrating the 30th anniversary of the fan-favorite show Star Trek: Deep Space Nine!
An extremely rare purebred corgi from Earth makes its way aboard Deep Space 9 when Quark cuts a deal to procure it for a high buyer. After all, a Ferengi without profit is no Ferengi at all! But Latinum the corgi comes with unexpected cargo that shakes Captain Benjamin Sisko to the core: a Borg component discovered by a crew sent to uncover Cardassian technology after the station's reoccupation.
Brought to you by acclaimed author Mike Chen (Star Wars: Brotherhood, Here and Now and Then) and Star Trek comics artist extraordinaire Angel Hernandez (Star Trek: Picard—Stargazer, Star Trek: Discovery—Adventures in the 32nd Century)! Collects the entire mini-series.
Teenage Mutant Ninja Turtles: Reborn, Vol. 8 – Damage Done
Author(s): Sophie Campbell, Michael Walsh
Artist(s): Gavin Smith, Vlad Legostaev, Santtos
$19.99 US | 152 pages | 6-5/8 x 10-3/16 | Trade Paperback | 9798887240787
On Sale: 2024-02-20
Reeling from the events of The Armageddon Game, the TMNT grapple to hold it all together as the rest of New York City struggles to find equilibrium.
A shamed mayor. A fallen wall. A new borough and broken trust among a found family. The city's new dynamic means a new slate of challenges and opportunities. And while a dark threat lurks in the shadows of Mutant Town, several of the Turtles' closest allies separate themselves from the brothers.
Plus, the Turtles take to the streets for a simple patrol…But what they find will rock their shells! Realities collide when they come face to face with a threatening force from the future! Can the brothers band together to take down this mysterious foe?
Collects issues #140–144 and the 2023 Annual!
Beneath the Trees Where Nobody Sees #4 Cover A (Horvath)
Author(s): Patrick Horvath
Artist(s): Patrick Horvath
Cover Artist(s): Patrick Horvath
$3.99 US | 32 pages | 6-5/8 x 10-1/16 | Comic Book | 82771403215400411
On Sale: 2024-03-13
So now the stage is set, and Sam has ID'd her foe
But this town's not big enough for both, so one of them must go
But first, there's a meeting, where they'll come face-to-face
If they can't work it out, there will be a gruesome race
But it's not quite that simple, and for once, Sam is scared
This foe knows quite a bit about her, and the things of which she cares
Dungeons & Dragons: Fortune Finder #4 Cover A (Dunbar)
Author(s): Jim Zub
Artist(s): Jose Jaro
Cover Artist(s): Max Dunbar
$3.99 US | 32 pages | 6-5/8 x 10-1/16 | Comic Book | 82771403239000411
On Sale: 2024-02-21
Finder's quest to uncover their true identity leads them to Mechanus, a realm of absolute order that maintains the structure of the multiverse. But when the beings who patrol this realm discover an agent of chaos in their midst, Finder's journey may finally be done for good. Secrets are revealed in this penultimate issue of the series inspired by the new sourcebook, Planescape: Adventures in the Multiverse! Written by Dungeons & Dragons fan favorite Jim Zub (Rick & Morty Vs. Dungeons & Dragons, Uncanny Avengers, Unbreakable Red Sonia) with art by Jose Jaro (Incidentals, Buffy: The Last Vampire Slayer).
Dungeons & Dragons: Saturday Morning Adventures II #2 Cover A (Kambadais)
Author(s): David Booher
Artist(s): George Kambadais
Cover Artist(s): George Kambadais
$3.99 US | 32 pages | 6-5/8 x 10-1/16 | Comic Book | 82771403258100211
On Sale: 2024-02-28
Bobby is missing! After crash-landing in the middle of a pirate war on the Sword Coast, the party has one fewer member…and one more? Bobby and Sheila have been clashing over Bobby's increasingly, well, barbaric behavior, and it appears Bobby has now run away. With Dungeon Master's health deteriorating and the quest to find a cure further out of reach, they get help from a surprising ally. Oh, did we mention there's a sea monster? Because there's definitely a sea monster.Continuing the all-new adventures based on the classic cartoon, with writer David Booher (Canto, Specs) and George Kambadais (Gargoyles), the same team that brought you last year's acclaimed Saturday Morning Adventures miniseries!
Earthdivers #15 Cover A (Albuquerque)
Author(s): Stephen Graham Jones
Artist(s): Davide Gianfelice
Cover Artist(s): Rafael Albuquerque
$3.99 US | 36 pages | 6-5/8 x 10-1/16 | Comic Book | 82771403083901511
On Sale: 2024-02-14
In 1776, Emily's mission starts to take shape as she finds an ally in Benjamin Franklin and the two begin working together to eliminate targets. Emily hopes that will be enough to finally change history once and for all in the way intended. However, there are more enemies in 1776 than there are allies, and Emily is about to be sorely reminded of that fact.
Godzilla Rivals: Mothra Vs. M.O.G.U.E.R.A. Cover A (Chan)
Author(s): Johnny Parker II
Artist(s): Winston Chan
Cover Artist(s): Winston Chan
$7.99 US | 52 pages | 6-5/8 x 10-1/16 | Comic Book | 82771403274100111
On Sale: 2024-02-21
Mothra is a great protector and friend to humanity, but not everyone believes the monster is always going to be on our side. When an anti-kaiju group controlling the powerful robotic Mechagodzilla and M.O.G.U.E.R.A. attacks Mothra's home, it's up to a few brave souls, an injured Mothra, and a little extra robotic help to save the day!
Godzilla: Best of Destoroyah Cover A (Biggie)
Author(s): VARIOUS, VARIOUS
Artist(s): null
Cover Artist(s): James Biggie
$7.99 US | 100 pages | 6-5/8 x 10-1/16 | Comic Book | 82771403269700111
On Sale: 2024-03-06
Swarming. Evolving. Becoming stronger as the already powerful juveniles come together and create a monster of devastation. Destoroyah! With the power of oxygen destruction, when Destoroyah arrives, no one is safe!
Golgotha Motor Mountain #1 Cover A (Rodriguez)
Author(s): Matthew Erman, Lonnie Nadler
Artist(s): Robbi Rodriguez
Cover Artist(s): Robbi Rodriguez
$5.99 US | 36 pages | 6-5/8 x 10-1/16 | Comic Book | 82771403273400111
On Sale: 2024-03-06
Join superstar artist Robbi Rodriguez (Spider-Gwen) and the dynamic writing duo of Matthew Erman (Witchblood) & Lonnie Nadler (Age of X-Man) on a high-octane redneck motor massacre!When a derelict chunk of a passing interstellar rock rains down on Elwood and Vernon Damnage's meth lab in Golgotha Knob, Kentucky, their lives are turned into a redneck body horror nightmare.Still needing to make their deliveries to the buyers, mutations or not, they set off down Golgotha Knob only to be beset on all sides by crazed addicts, cannibal police, and mutated Neo-Nazis. It doesn't matter what waits at the bottom of Golgotha Knob for the Damnage brothers because they must ride through a cosmic hell that they're unlikely to survive… But if these brothers do survive, they'll finally have made enough money to start over in the beautiful utopia that is Cincinnati.
Kill More #5 Cover A (Fuchs)
Author(s): Scott Bryan Wilson
Artist(s): Max Alan Fuchs
Cover Artist(s): Max Alan Fuchs
$6.99 US | 48 pages | 6-5/8 x 10-1/8 | Comic Book | 82771403199700511
On Sale: 2024-02-28
Parker's detective skills score her some points with Aira, and they discover that they've maybe, uh, way underestimated the number of killers running loose in their fair city. Meanwhile, Craig Johnson makes an enemy, and considering who his friends are, the city should be afraid…very afraid. This double-sized midpoint issue is the most terrifying one yet. "Puddles" is chapter five of KILL MORE, from writer Scott Bryan Wilson (TRVE KVLT, Pennyworth) and artist Max Alan Fuchs (Altered Carbon: One Life One Death, Halcyon Days).
The Ministry of Compliance #3 Cover A (Raffaele)
Author(s): John Ridley
Artist(s): Stefano Raffaele
Cover Artist(s): Stefano Raffaele
Letterer: Ariana Maher
Colorist: Brad Anderson
$4.99 US | 36 pages | 6-5/8 x 10-1/16 | Comic Book | 82771403218500311
On Sale: 2024-02-14
Much is asked of Kingsley as her mission into the heart of the Devolution continues to intensify. She believes in her cause, but is she willing to kill for it? Avigail is starting to trust her, but there are those in her inner circle who are starting to get suspicious, and Kingsley knows what will happen if she's caught… Luckily for her, the sides may not be drawn as clear as they seem.
My Little Pony: Kenbucky Roller Derby #2 Cover A (Haines)
Author(s): Casey Gilly
Artist(s): Natalie Haines
Cover Artist(s): Natalie Haines
$3.99 US | 32 pages | 6-5/8 x 10-1/16 | Comic Book | 82771403262800211
On Sale: 2024-02-28
Give me an S! Give me a K! Give me an A! Give me a T! Give me an E! What does that spell? SKATE! Pipp is cheering her heart out from the stands, but Sunny's roller derby tryouts are…less than ideal. But Sunny created her team to give every creature an equal chance. Plus, they have the best coach in all of Equestria! The Mane 6 are going to have to pick themselves up by the skate straps if they want to have any chance of competing in the Kenbucky Roller Derby!
Sonic the Hedgehog: Fang the Hunter #2 Cover A (Hammerstrom)
Author(s): Ian Flynn
Artist(s): Thomas Rothlisberger
Cover Artist(s): Aaron Hammerstrom
$3.99 US | 32 pages | 6-5/8 x 10-1/16 | Comic Book | 82771403263500211
On Sale: 2024-02-21
Determined to find out more information about the legendary—and possibly not real—eighth Chaos Emerald, Fang, Bark, and Bean make a trip to Angel Island. But trespassers looking for an emerald are going to have to tussle with the Master Emerald's guardian, Knuckles! Meanwhile, Sonic and Tails follow their own lead on another mystery…
Star Trek #17 Cover A (To)
Author(s): Jackson Lanzing, Collin Kelly
Artist(s): Marcus To
Cover Artist(s): Marcus To
Colorist: Lee Loughridge
$4.99 US | 32 pages | 6-5/8 x 10-1/16 | Comic Book | 82771403084601711
On Sale: 2024-02-21
Galactic war is imminent in the penultimate issue of arc three of the Eisner-nominated Star Trek series.With Federation, Romulan, and Cardassian forces all vying for leverage over the Tzenkethi war fleet, Captain Sisko is left with no choice but to request official assistance from Starfleet after he and his crew have fallen out of favor with the warmongering reptilian species. However, the proposed solution—and only option Starfleet is willing to approve—is questionable, with the potential of endangering not only the Theseus crew…but the galaxy at large.
Star Trek: Defiant #12 Cover A (Unzueta)
Author(s): Christopher Cantwell
Artist(s): Angel Unzueta
Cover Artist(s): Angel Unzueta
Colorist: Marissa Louise
$4.99 US | 32 pages | 6-5/8 x 10-1/16 | Comic Book | 82771403137901211
On Sale: 2024-02-28
Original Star Trek: Defiant writer-artist duo Christopher Cantwell and Ángel Unzueta delve into the sci-fi horror genre in arc three of the fan-favorite series!Eager to move past the unofficial bounty-hunting mission assigned to them by Starfleet, disgraced former ambassador and Starfleet legend, Worf, and his rogue crew make way for Starbase 99, a run-down remnant of the Dominion War, to complete their fugitive drop-off. The clandestine assignment has left them disillusioned with Starfleet and with one another, but a surprise awaits the Defiant crew, threatening to tear the crew apart even further—literally.
Star Trek: Picard's Academy #6 Cover A (Boo)
Author(s): Sam Maggs
Artist(s): Ornella Greco
Cover Artist(s): Sweeney Boo
Colorist: Charlie Kirchoff
$3.99 US | 32 pages | 6-5/8 x 10-1/16 | Comic Book | 82771403203100611
On Sale: 2024-02-28
It's do-or-die for Picard and cadets in the finale of Picard's Academy!Romulans storm the ship while Starfleet remains out of reach and potentially unaware of the threat headed their way, but the cadets have finally come to an agreement, electing Jean-Luc to the captain's chair. They're finally willing to follow Picard's lead, and Picard is finally willing to acknowledge their feedback—now acting as a proper crew. But is it too late? Will Picard fail his crewmates once again and, worse yet, see the start of an interstellar war? So much for graduating early!
Teenage Mutant Ninja Turtles #148 Cover A (Federici)
Author(s): Sophie Campbell
Artist(s): Vincenzo Federici
Cover Artist(s): Vincenzo Federici
$3.99 US | 32 pages | 6-5/8 x 10-1/16 | Comic Book | 82771400271314811
On Sale: 2024-02-14
With Armaggon traveling further and further back in time, Donatello begins to wonder just when he's going. And while Donnie plans, an ally shows their hand…Join Sophie Campbell and artist Vincenzo Federici (TMNT: The Armageddon Game) as the road to #150 continues!
Teenage Mutant Ninja Turtles: Saturday Morning Adventures #11 Cover A (Schoening)
Author(s): Erik Burnham
Artist(s): Dan Schoening
Cover Artist(s): Dan Schoening
$3.99 US | 32 pages | 6-5/8 x 10-1/16 | Comic Book | 82771403150801111
On Sale: 2024-03-06
The heroes in a half shell have rescued Leonardo from one time-space catastrophe, but they're not done with dimensional portals yet! Shredder has returned from ancient Japan with a new sword, even more powerful than the last, and he intends to use it to bring the Technodrome through to the Big Apple. It's up to the Teenage Mutant Ninja Turtles to thwart him and keep New York City safe from the consequences of rips in reality. Don't miss this conclusion to the Eddiku Trilogy arc!
Teenage Mutant Ninja Turtles: Sourcebook #1 Cover A (Santolouco)
Author(s): Patrick Ehlers
Artist(s): VARIOUS, VARIOUS
Cover Artist(s): Mateus Santolouco
$7.99 US | 100 pages | 6-5/8 x 10-1/8 | Comic Book | 82771403266600111
On Sale: 2024-02-21
IDW's Teenage Mutant Ninja Turtles comics synthesize and remix 40 years of Turtles lore and transform it into a single, sprawling epic! This sourcebook collects and catalogs every character, every location, and every notable event—and serves as a comprehensive companion to that epic—into four issues by writer Patrick Ehlers.
Issue #1 tracks the complete story of the friendship and rivalry of Oroku Saki and Hamato Yoshi, from friends to foes, from past to present, from astral plane to solid ground. Where the immortal Shredder builds an army of criminals, ninjas, and beasts, the resurrected Splinter and his Turtle sons grow their influence through family and fellowship. These are the humans and mutants caught up in this life span–defying war for control of the Foot Clan.
Teenage Mutant Ninja Turtles: The Last Ronin II–Re-Evolution #1 Cover A (Escorzas)
Author(s): Kevin Eastman, Tom Waltz
Artist(s): Ben Bishop, Escorza Brothers
Cover Artist(s): Escorza Brothers
$8.99 US | 52 pages | 7-1/10 x 10-7/8 | Comic Book | 82771403180500111
On Sale: 2024-02-28
More than a decade after the Last Ronin defeated the Foot Clan, New York City finds itself in a state of steady decline. Now, the disparate gangs vie for economic and political control and that the chaos is taking its toll. It's clear to Casey Marie that if something isn't done soon, the city she knows and loves will be lost forever. So, whether they're ready or not, she and her young pupils must raise a new coalition and lead the charge to keep the peace. Witness the rise of the next generation of Teenage Mutant Ninja Turtles as they fight to restore peace to the streets they live below! Legendary TMNT co-creator Kevin Eastman proudly presents the next epic chapter of The Last Ronin, reassembling the acclaimed creative team from the original monster bestseller for a second oversized, prestige format miniseries event!