Dark Horse November 2023 Solicitations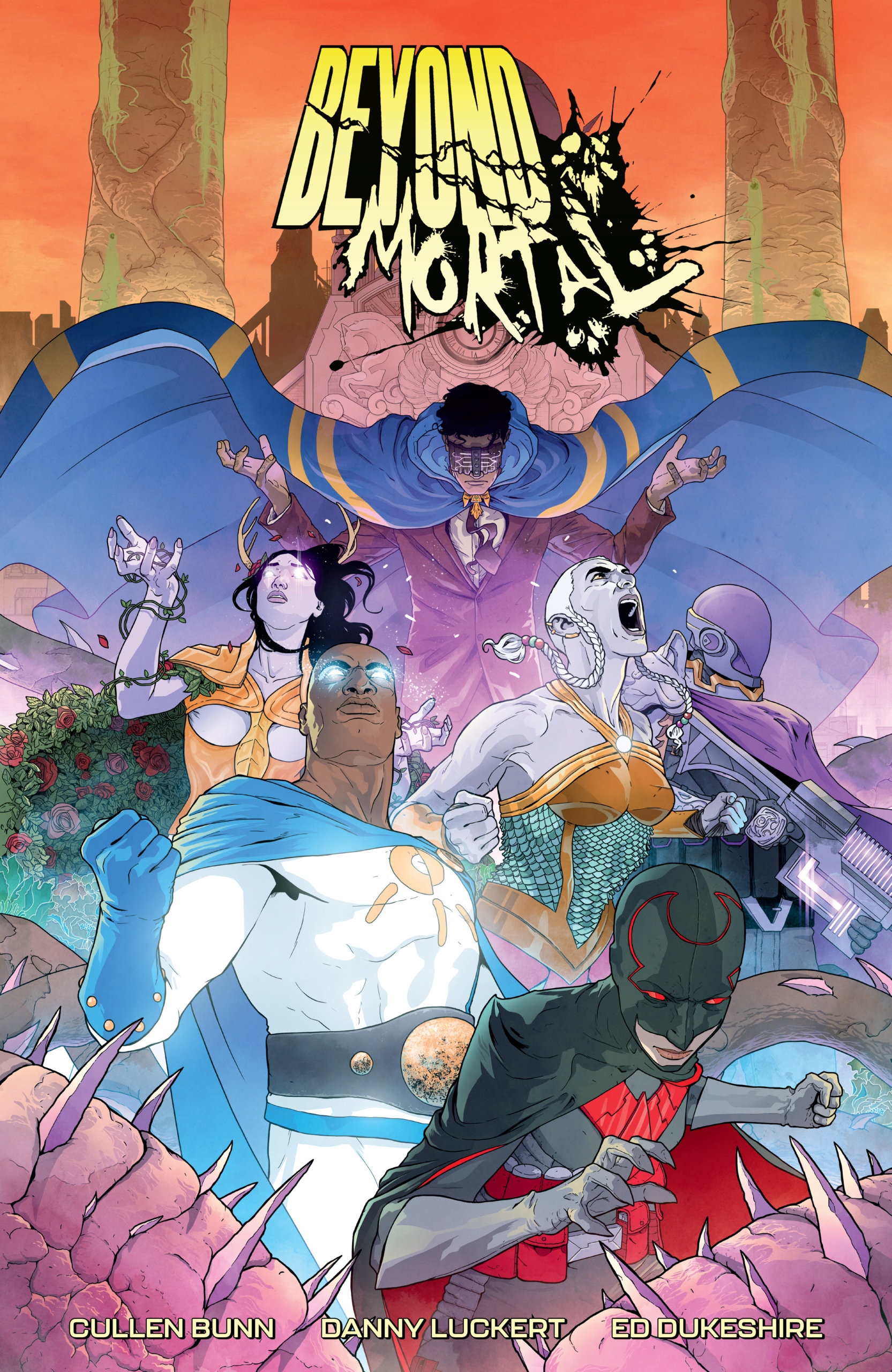 Dark Horse November 2023 Solicitations
Common abbreviations
TP/TPB: Trade Paperback
SC: Softcover (like a TPB)
HC: Hardcover
FC: Full Color
DM: Direct Market. This refers primarily to comic book stores or online shops that order via the same means as a comic book store (primarily Diamond or Lunar). Places like Amazon or Barnes and Noble will generally NOT have these variants.
FOC: Final Order Cutoff – The time an order has to be submitted by the vendor. Also when you need to get your order in by at TalesofWonder for preorders.
RES: Resolicit – A new listing for a product that was previously solicited in PREVIEWS or New to Order, and which is being listed anew since the original Solicitation was cancelled either by the vendor or by Diamond.
O/A: Offered Again – This designates an item that has been previously solicited and released, but is being solicited again.
ALL DATES ARE SUBJECT TO CHANGE DUE TO PAPER SHORTAGES, PRINTER JAMS, AND SHIPPING CONFLICTS.
Death Strikes: The Emperor of Atlantis
Author(s): Dave Maass
Artist(s): Richard Bruning, Patrick Lay, Ezra Rose
$24.99 US | 128 pages | 6-5/8 x 9 | Hardcover | 9781506737300
On Sale: 2024-01-23
Mixing dystopian sci-fi, mythic fantasy, and zombie horror, Death Strikes: The Emperor of Atlantis, is a graphic novel based on a suppressed opera written in 1943 by Peter Kien and Viktor Ullmann, two prisoners at the Terezín concentration camp in Czechoslovakia. The authors did not live to see their masterpiece performed.

Set in an alternative universe where Atlantis never sank but instead became a technologically advanced tyranny, the power-mad buffoonish Emperor declares all-out war—everyone against everyone. Death goes on a labor strike, creating a hellscape where everyone fights, but no one dies. Can the spirit of Life stop this terror with the power of love?

Includes designs from the original opera, historical essays, photographs, and more.

"This is beautiful and strange, both for what it is and what it isn't. As a story it's fascinating and excellently told, as an artifact it's heartbreaking and affecting. More than a footnote in Holocaust literature or a lost libretto given visual shape, it's a reminder of what art is for, and how it saves and shapes us when everything else is gone."—Neil Gaiman
The Horror
Author(s): Lars Jacobson
Artist(s): Eduardo Francisco
$24.99 US | 104 pages | 6-5/8 x 10-3/16 | Hardcover | 9781506727752
On Sale: 2024-04-09
Travel with Kurtz and his family as they enter the "heart of darkness" on a humanitarian mission for Belgian King Leopold's Congo Free State, opening a trading post in the uncharted interior of the Congo jungle to promote free markets and end slavery.

With the help of a local tribe, they establish the post, but to survive in this lawless jungle, they must contend with murderous slave traders from Zanzibar, corrupt Belgian officials, evil imperialists, psychotic explorers, and cannibalistic tribes. Along the way, however, they encounter a primordial evil whose origins and mythology date back to the womb of civilization, perverting minds and corrupting souls while preying on the worst instincts of mankind. The locals speak of this insidious evil in fearful whispers, calling it, "The Horror."

The Horror provides a prequel to Joseph Conrad's "Heart of Darkness", exploring the origins of one of the most enigmatic characters in storytelling while examining one of the worst atrocities and humanitarian disasters ever recorded.
Maskerade Volume 2
Author(s): Kevin Smith, Andy McElfresh
Artist(s): Giulia Gualazzi
$24.99 US | 104 pages | 6-5/8 x 10-3/16 | Hardcover | 9781506734798
On Sale: 2024-01-16
The flagship title from legendary director Kevin Smith's Secret Stash Press is reloaded for more Masker mayhem!

Maskerade continues to carve a bloody swath of vengeance through the twisted rich of Trenchen City. Volume 2 of Maskerade is finally here!

Producer plaything Dwayne and Masker maker Frisky aid in Felicia's payback plans, penetrating the antisocial circle of Trenchen's pervy power-player elite. At the city's rotten core lies her crafty quarry—the diabolical Dr. David Ditt! As Maskerade, she strives to strike his name off her bloody hit list and avenge her brother before Ditt and his goons perfect their own Masker—will they end Felicia once and for all?

Collects Maskerade #5–#8.
Miss Truesdale and the Fall of Hyperborea
Author(s): Mike Mignola
Artist(s): Clem Robins, Jesse Lonergan
$24.99 US | 120 pages | 6-5/8 x 10-3/16 | Hardcover | 9781506738178
On Sale: 2024-01-30
One of the last followers of the Heliopic Brotherhood of Ra, the unassuming Miss Truesdale is the recipient of Brotherhood leader Tefnut Trionus's final vision.

From meek secretary in Victorian London to a mighty gladiator in ancient Hyperborea, Truesdale is thrust into the past to fight ancient evils and change the future forever.

Hellboy creator Mike Mignola teams with artist Jesse Lonergan for an all-new time-bending horror tale from the Mignolaverse.

Collects Miss Truesdale and the Fall of Hyperborea #1–#4 and bonus material.
Order and Outrage Volume 1
Author(s): Jim Starlin
Artist(s): Rags Morales
$24.99 US | 96 pages | 6-5/8 x 10-3/16 | Hardcover | 9781506736556
On Sale: 2024-01-02
Gene manipulation has always been solely for those who can afford the expensive prenatal treatments.

Income determines status and, more importantly, survival. If your genes have not been optimized, the Order has no use for you.

You are non-essential. Less than. To be eliminated. Everything is geared to keeping the ship of state sailing along smoothly, no matter the cost.

But in every totalitarian system lies the seeds of rebellion, independence, and OUTRAGE.
B.P.R.D. Omnibus Volume 9
Author(s): Mike Mignola, John Arcudi
Artist(s): Laurence Campbell, Peter Snejbjerg, Julian Totino Tedesco
$29.99 US | 416 pages | 6-5/8 x 10-3/16 | Trade Paperback | 9781506729572
On Sale: 2024-01-02
Hell on Earth comes to an end when the B.P.R.D. must defend Earth from one of the mythical Ogdru Jahad, the dragon believed to bring about the end of the world.

The agents must destroy the dragon and the countless monsters it creates. Elsewhere, Russian occult director seeks help from a demon as he follows her through Hell.
Barnstormers: A Ballad of Love and Murder
Author(s): Scott Snyder
Artist(s): Tula Lotay
$24.99 US | 200 pages | 6-5/8 x 10-3/16 | Trade Paperback | 9781506728308
On Sale: 2024-01-09
Winner 2023 Will Eisner Award – Best Digital Comic.

A high-flying, post WWI-era historical fiction graphic novel that's an intimate portrait of love and war—and a meditation on the dangerous level of trust required in both romance and aviation.

It's 1927—the late days of the barnstorming era, when pilots competed with each other by performing deadlier and more wondrous feats. Injured pilot Hawk E. Baron is back from the frontlines of the war. Still a young man, he's an adventurer who lives his life traveling from town to town in his plane entertaining folks—most of whom have never seen a car, let alone a plane.

His world changes when he meets Tillie, a young woman who shares his passion for aviation and adventure. They become a traveling act, delighting folks with their antics. Tillie even becomes Hawk's wing-walker, climbing out on the wing of the plane mid-flight to perform death-defying acrobatics.

When they learn they are suspected of a horrific crime, their journey becomes an even deadlier race against time. Along the way they bond, confessing their secrets, and begin a romance in this lush, character-driven series that explores the early days of aviation and the evolving relationship and romance between two young pilots.

This Bonnie and Clyde romp brings together writer Scott Snyder (We Have Demons) and the breathtaking illustrations of Tula Lotay (Supreme: Blue Rose)—her longest sequential work to date.
Beyond Mortal
Author(s): Cullen Bunn
Artist(s): Danny Luckert
$19.99 US | 168 pages | 6-5/8 x 10-3/16 | Trade Paperback | 9781506740508
On Sale: 2024-01-30
Cullen Bunn (Harrow County) and Danny Luckert (Shock Shop) present an original graphic novel where the heroes of a new comic book universe will collide with a new pantheon of alien deities from beyond our understanding of reality.

Comic book readers are familiar with the world of Bronze and Modern Era comics… stories of gleaming steel metropolises populated by daring superheroes battling for truth and justice… facing down power-mad masterminds and would-be world conquerors.

But unknown to the league of heroes who protect the innocent, this world has a cancer growing at its heart. A pantheon of elder gods is starting to awaken. These timeless forces of super-nature once claimed dominion over a primordial Earth… and they have returned to reclaim what is theirs.

Super-powered heroes—and villains—find themselves struggling against unimaginable horror to save the planet. It is a hopeless battle.

The unstoppable force of the Leviathan will collide with the immovable object of the world's most powerful superheroes in an unflinching tale of ultimate horror and ultimate sacrifice.
Census
Author(s): Marc Bernardin, Adam Freeman
Artist(s): Sebastian Piriz
$22.99 US | 112 pages | 6-5/8 x 10-3/16 | Trade Paperback | 9781506737164
On Sale: 2024-01-23
To get the job of a lifetime, sometimes you have to sell your soul.

Liam Malone is an aimless college slacker living in New York City who answers a job posting ad for the Census Bureau that seems to require little of him. Knock on doors, ask a few questions, move on. But what he discovers is that the doors of New York City are hiding lots of things. Dangerous things. Supernatural things. Liam's new gig requires him to register all of the demons, djinn, and other bizarre creatures living in New York. How will Liam both keep his life and a stellar performance review?

Collects Census #1–#5, originally published by Comixology Originals.
Creepy Archives Volume 5
Author(s): Bill Parente
Artist(s): Steve Ditko, Reed Crandall, Donald Norman, Tom Sutton
$24.99 US | 224 pages | 8-3/8 x 10-7/8 | Trade Paperback | 9781506736174
On Sale: 2024-01-23
The Eisner Award winning Creepy Archives series is now available in value-priced paperback editions!

Enter a world of the finest in spine-chilling storytelling from comics legends Archie Goodwin, Steve Ditko, Reed Crandall, Angelo Torres, Alex Toth, and more. Creepy Archives Volume 5 unearths a treasure trove of horror, homicide, and hauntings that set the stage for many a nightmare. Includes the adaptation of the harrowing H. P. Lovecraft classic "The Rats in the Walls."

Collects Creepy magazine issues 21–25.
Drifters Omnibus Volume 1
Author(s): Kohta Hirano
Artist(s): Kohta Hirano
$29.99 US | 672 pages | 5-1/8 x 7-1/4 | Trade Paperback | 9781506738772
On Sale: 2024-01-02
From Kohta Hirano, creator of Hellsing, comes Drifters Omnibus Volume 1, a supersized, value-priced collection of the first three Drifters volumes of the action-fantasy epic.

Warriors and warlords from Earth's history—"Drifters"—are transported to an alien world and employed to help the non-human races defend themselves in a worldwide civil war with legions of monsters led by the malefic Black King threatening the annihilation of both human and non-human races. Included in the menagerie of fighters from Earth are samurai warrior Shimazu Toyohisa, Joan of Arc, and Hitler! Drifters is a howling tornado of all-out action and staggering imagination.

Collects Drifters volumes 1, 2, and 3.
The EC Archives: Weird Science Volume 3
Author(s): Al Feldstein, William Gaines
Artist(s): Wally Wood, Al Feldstein, Jack Kamen
$19.99 US | 216 pages | 8-3/16 x 10-15/16 | Trade Paperback | 9781506736433
On Sale: 2024-01-30
Long before "one giant leap for Mankind," EC Comics speculated on the wonder—and horror—posed by space travel.

The EC Archives: Weird Science volume 3 features the zenith of these explorations by comics pioneers Al Feldstein, William Gaines, Wally Wood, Jack Kamen, Joe Orlando and more. This value-priced softcover volume collects Weird Science issues #13–#18 with remastered digital color based on Marie Severin's original tones. Includes the adaptations of two Ray Bradbury tales, "The Long Years" and "Mars is Heaven." Foreword by Jerry Weist, comic art historian and author of the Hugo Award-nominated Ray Bradbury: An Illustrated Life.
Hellsing Volume 3 (Second Edition)
Author(s): Kohta Hirano
Artist(s): Kohta Hirano
$14.99 US | 192 pages | 5-1/8 x 7-1/4 | Trade Paperback | 9781506738529
On Sale: 2024-01-09
The manga that spawned the worldwide hit anime, Kohta Hirano's Hellsing returns in a new edition with revised translation and new graphic design. Hellsing combines gothic horror, violent action, and dark humor into a blistering bloodbath of nightmarish proportions!

A Hellsing Organization strike team travels to Rio de Janeiro to seek—and destroy—the vampire-breeding Nazis of Millennium, only to find themselves labeled as international terrorists, a fiction perpetrated by Brazilian officials in exchange for Millennium's promise of immortality. An armada of military police is dispatched to take down the Hellsing crew, and though the cops may be prepared for violent subversives, they are most definitely unprepared to face Alucard, lord of the undead!
Mob Psycho 100 Volume 13
Author(s): ONE
Artist(s): ONE
$11.99 US | 200 pages | 5-1/8 x 7-1/4 | Trade Paperback | 9781506737980
On Sale: 2024-01-02
From the creator of One-Punch Man!

The battle for the city is over, with Claw vanquished, and nothing to mark the struggle but the gigantic broccoli sprouting from the rubble. That's not a misprint, but it's also the beginning of still more trouble as this "divine tree" begins to attract spiritual devotees to Seasoning City in search of the psychic power at its root! Regardless of his incredible heroism and esper skills, Mob still needs to find a way forward in search of a normal life…but will the cult stalking him permit it…?
Star Wars: Hyperspace Stories Volume 2–Scum and Villainy
Author(s): Cecil Castellucci, Michael Moreci, Amanda Deibert
Artist(s): Andrea Mutti, Various
$19.99 US | 96 pages | 6-5/8 x 10-3/16 | Trade Paperback | 9781506732879
On Sale: 2024-01-16
Beware the power of the Dark Side!

From one end of the galaxy to the other, the forces of evil grow stronger. Criminal syndicates scheme in the shadows, while vicious bounty hunters track down the guilty and innocent alike. And from the height of the Clone Wars to the darkest days of the Resistance, the agents and acolytes of the Sith work tirelessly to enact the dark will of their shadowy masters.

Dark Horse comics presents four tales of scum and villainy, in Hyperspace Stories Volume 2!

Collects Star Wars: Hyperspace Stories #5–#8.
Stranger Things: Tales from Hawkins (Graphic Novel)
Author(s): Jody Houser
Artist(s): Caio Filipe, Sunando C, Giorgia Gio Sposito, Nil Vendrell Pallach
$19.99 US | 96 pages | 6-5/8 x 10-3/16 | Trade Paperback | 9781506727677
On Sale: 2024-01-16
An anthology of vibrant new stories woven into the larger tapestry of the hit Netflix series! Discover the hidden stories from Hawkins, Indiana.

On the surface, Hawkins, Indiana seems like the kind of town where nothing too out of the ordinary ever happens, but in the fall of '83 two hunters head out into the woods with their rifles and a six-pack, and find themselves the prey of a nightmarish beast. When Barb Holland goes missing, Murray Bauman is on the case if only he can look past his own suspicious mind to solve the case. Robin Buckley's school film project gives her a chance to work with her secret crush, but does it only make it harder to come to terms with her feelings? And when pumpkins start inexplicably rotting, the feud between two farm families reaches a boiling point.

Joining Houser on her visit to Hawkins are artist Caio Filipe (Stranger Things: Summer Special, Nightwing), Sunando C (End After End), Giorgia Gio Esposito (Lunar Room, Dr. Who) colorist Dan Jackson (The Strain, Hellboy: Weird Tales), and letterer Nate Piekos (The Umbrella Academy, Black Hammer).

Collects Stranger Things: Tales from Hawkins issues #1–#4.
Survival
Author(s): Sean Lewis
Artist(s): Bryndon Everett
$19.99 US | 136 pages | 6-5/8 x 10-3/16 | Trade Paperback | 9781506739458
On Sale: 2024-01-16
When Emma Reed journeyed back to her hometown in Alaska, she was expecting little more than a tense family reunion.

But early that morning, a plane full of militarized vampires in a hijacked Russian war plane crash landed in the thick woods near the mountain, and changed her life forever.

This thrilling tale combines the action-packed drama of Red Dawn and the horror of 30 Days of Night, as these invaders aren't just here to control the American wilderness they now occupy, but to literally suck the blood from their victims.

Collects Survival #1–#5.
Top Secret Service
Author(s): Zack Keller
Artist(s): Giovanna La Pietra
$19.99 US | 88 pages | 6-5/8 x 10-3/16 | Trade Paperback | 9781506736259
On Sale: 2024-04-30
After achieving their lifelong goal of becoming U.S. Secret Service Agents, best friends Chris Lu and Blake Sansome are not assigned to protect the current president, but instead a retired ex-president enjoying the quiet life on his Montana ranch.

The rookie agents hate their boring assignment far from the high-profile action they crave… until an elite hitsquad assaults the house. They soon learn that the kindly old ex-president was actually involved in a world-altering government conspiracy covering up alien contact. Now, people have come for the secrets only he knows… and the dangerous technology the aliens left behind.
Black Hammer: The End #4 (CVR A) (Malachi Ward)
Author(s): Jeff Lemire
Artist(s): Malachi Ward
Cover Artist(s): Malachi Ward
Colorist: Malachi Ward
$3.99US | 32pages | 6-5/8 x 10-3/16 | Comic Book | 76156801097800411
On Sale: 2023-11-22
As the hellamental monsters are unleashed upon Spiral City by the world destroyer Anti-God, the heroes and villains of the world unite to put an end to this madness once and for all. Black Hammer: The End is the next era of the Black Hammer Universe; a six-issue event series by Jeff Lemire and Malachi Ward that pulls the Black Hammer world into crisis.
Count Crowley: Mediocre Midnight Monster Hunter #1 (CVR A) (Lukas Ketner)
Author(s): David Dastmalchian
Artist(s): Lukas Ketner
Cover Artist(s): Lukas Ketner
Letterer: Frank Cvetkovic
Colorist: Lauren Affe
$4.99US | 32pages | 6-5/8 x 10-3/16 | Comic Book | 76156801155500111
On Sale: 2023-11-08
A dead werewolf would have made Jerri Bartman feel victorious just a few days ago. But this deceased beast was her friend and our beloved monster hunter is shocked and depressed. The return of her predecessor brings no consolation and now there's a ghoulish child-snatcher on the loose in Beloit… Holly Halloween, Count Crowley! Things are really getting batty! • The third volume of the hit horror series, Count Crowley!
Cyberpunk 2077: XOXO #2 (CVR A) (Jakub Rebelka)
Author(s): Bartosz Sztybor
Artist(s): Jakub Rebelka
Cover Artist(s): Jakub Rebelka
Letterer: Frank Cvetkovic
Colorist: Jakub Rebelka
$3.99US | 32pages | 6-5/8 x 10-3/16 | Comic Book | 76156801123400211
On Sale: 2023-11-22
Staring down the barrel of a gun, it all ends in an instant. With both Maelstrom and Mox bodies laid to waste, the true target will shatter allegiances and break a heart.
Drive Like Hell #2 (Alex Cormack)
Author(s): Rich Douek
Artist(s): Alex Cormack
Cover Artist(s): Alex Cormack
Colorist: Alex Cormack
$3.99US | 32pages | 6-5/8 x 10-3/16 | Comic Book | 76156801125800211
On Sale: 2023-11-29
Looks like Bobby and Dahlia are home free!
Chased down the backroads by a pack demon cops, they've made it to the Reverend Roscoe's Roadside Revival, somewhere no self-respecting hellspawn would be caught dead or alive.
The only thing is, the Rev isn't exactly on the up and up with the big man upstairs.
And Bobby's new car seems to have a mind of its own.
From the World of Minor Threats: The Alternates #3 (CVR A) (Scott Hepburn)
Author(s): Tim Seeley, Patton Oswalt, Jordan Blum
Artist(s): Christopher Mitten
Cover Artist(s): Scott Hepburn
$4.99US | 32pages | 6-5/8 x 10-3/16 | Comic Book | 76156801108100311
On Sale: 2023-11-22
Tripper, the hard-traveling hero of the highways, has always counted on his alien compass to point him to where he needed to be. As The Alternates continue to hunt for the source of the reality-warping drug known as Prestige, Tripper discovers he may have accidentally just led his support group of heroes to the slaughter. As the mystery of what happened in The Ledge deepens so does the danger when the powerful super being The Searcher (from Minor Threats vol. 1!) comes a callin'!

Co-written by Hack/Slash's Tim Seeley and featuring artwork by Christopher Mitten (Hellboy) and Tess Fowler (Kid Lobotomy).
Giant Robot Hellboy #2 (CVR A) (Duncan Fegredo)
Author(s): Mike Mignola
Artist(s): Duncan Fegredo
Cover Artist(s): Duncan Fegredo
Letterer: Clem Robins
Colorist: Dave Stewart
$3.99US | 32pages | 6-5/8 x 10-3/16 | Comic Book | 76156801126500211
On Sale: 2023-11-29
While Hellboy's robotic counterpart battles giant monsters on a faraway island, the scientists running the mission scramble when things at the lab get more than a little out of hand.

Inspired by Mignola's viral-hit pencil drawings from Mike Mignola: The Quarantine Sketchbook, Giant Robot Hellboy gets his own story in this 3-part miniseries from Mignola and longtime Hellboy artist Duncan Fegredo!
Killer Queens 2: Kings, Not Wings! #4 (Chris Ables)
Author(s): David Booher
Artist(s): Bradley Clayton
Cover Artist(s): Chris Ables
Colorist: Harry Saxon
$3.99US | 32pages | 6-5/8 x 10-3/16 | Comic Book | 76156801071800411
On Sale: 2023-11-22
The thrilling conclusion arrives!
Alex faces her father in the battle arena while Max plans a daring escape. These Killer Queens are ready to show this man what it really means to be royalty. Neither of them knows that Cahl has other plans. Who will survive the final showdown? And who will come up with the best pun about flying? Tune in as the Queens do what they do best—they, ahem, wing it.
Lunar Lodge #2 (Mike Henderson)
Author(s): Tyler Marceca
Artist(s): Mirko Colak
Cover Artist(s): Mike Henderson
Letterer: Frank Cvetkovic
Colorist: Francesca Vivaldi
$3.99US | 32pages | 6-5/8 x 10-3/16 | Comic Book | 76156801078700211
On Sale: 2023-11-22
Rob was sure his wife Fiona was 'stepping out' on him. That's why he followed her to the Lunar Lodge. If she was in fact cheating on him, he had to see it for himself. But instead of catching Fiona engaged in an extramarital rendezvous, Rob found her imprisoned in some secret, subterranean extension of the Lodge… along with the rest of the guests. Rob's first instinct is to free his captive wife… but perhaps there's a good reason why Fiona is locked up in a room fitted with reinforced silver bars.
Mortal Terror #1 (CVR A) (Peter Bergting)
Author(s): Christopher Golden, Tim Lebbon
Artist(s): Peter Bergting
Cover Artist(s): Peter Bergting
Colorist: Chris O'Halloran
$4.99US | 32pages | 6-5/8 x 10-3/16 | Comic Book | 76156801158600111
On Sale: 2023-11-22
A vampire-flipped Dracula in which mortality means life . . . and life means death.

Vampires Jonathan Harker, Lucy Westenra, and Mina Murray live in underground London, trying to keep the undead city safe from the rumored mortals above who seek to give them life, only to kill them. But when the authorities refuse to believe mortals, let alone the mysterious Count Dracula, are anything more than myth, they are on their own to keep their city eternally dead.
The Oddly Pedestrian Life of Christopher Chaos #5 (CVR A) (Nick Robles)
Author(s): Tate Brombal, James IV Tynion
Artist(s): Isaac Goodhart
Cover Artist(s): Nick Robles
Colorist: Miquel Muerto
$4.99US | 32pages | 6-5/8 x 10-3/16 | Comic Book | 76156801073200511
On Sale: 2023-11-15
Christopher, Dracula Boy, and Viv take refuge in a bizarre church and explore the subterranean boulevards of New Briar City, where the mysterious giant reveals secrets of monsterkind.
• From New York Times and multi-Eisner award-winning best-selling author James Tynion IV and Tate Brombal.
Operation Sunshine #2 (CVR A) (David Rubin)
Author(s): Marcus Parks, Henry Zebrowski
Artist(s): David Rubin
Cover Artist(s): David Rubin
Colorist: K.J. Diaz
$3.99US | 32pages | 6-5/8 x 10-3/16 | Comic Book | 76156801121000211
On Sale: 2023-11-15
From the New York Times-bestselling hosts of the hit The Last Podcast on the Left and Black Hammer's David Rubín comes this all-new humorous, horror, and action-packed comic book series that's Near Dark meets Ocean's Eleven.

As their quest to be cured of vampirism unfolds, Hex and Steve are hired by a monster with a grudge to sabotage the ancient vampires and steal their magical relic!
Quick Stops 2 #1 (CVR A) (Nate Gonzalez)
Author(s): Kevin Smith
Artist(s): Ahmed Raafat
Cover Artist(s): Nate Gonzalez
Letterer: Andrew Thomas
$3.99US | 32pages | 6-5/8 x 10-3/16 | Comic Book | 76156801159300111
On Sale: 2023-11-22
Kevin Smith and his Secret Stash Press bring you the seedy, sexy, sensational origin of the Askewniverse's sacred cow: Mooby the Golden Calf!
Learn the udder truth about an American icon when a young podcaster tries to milk Mooby creator Nancy Goldruff for the bovine's beginnings, only to meat a cow tale so shocking, it turns her brain to hamburger.
Saint John #3 (CVR A) (Dan Schkade)
Author(s): Brennan Wagner, Dan Schkade, Portland Gear
Artist(s): Dan Schkade
Cover Artist(s): Dan Schkade
$4.99US | 32pages | 6-5/8 x 10-3/16 | Comic Book | 76156801112800311
On Sale: 2023-11-22
Tori and Saint John are pushed to an emotional fission point as flash floods tear through an eastside neighborhood. While John races against time to pull vulnerable citizens from the deadly rising water, Tori discovers Felix Hodge's true vision for the future of Portland.

A distinctly PDX miniseries from Eisner-nominated cartoonist Dan Schkade (Lavender Jack, The Spirit) and Portland native creator Brennan Wagner (Grendel, Batman), produced with—and featuring the fashion of—Portland Gear.
Space Usagi: Death and Honor #1 (CVR A) (Sweeney Boo)
Author(s): Stan Sakai
Artist(s): Stan Sakai
Cover Artist(s): Sweeney Boo
Colorist: Emi Fujii
$4.99US | 32pages | 6-5/8 x 10-3/16 | Comic Book | 76156801157900111
On Sale: 2023-11-15
As a general of the Shirohoshi Clan's space fleet, it's Usagi's responsibility to keep the lord and his family safe. Now tasked with the education and protection of the lord's heir, Usagi must remain vigilant at all times to protect the heir from a murderous plot and an unexpected betrayal.
• The rabbit ronin's classic adventure in space—now in color!
Star Wars: Hyperspace Stories #11 (CVR A) (Tom Fowler)
Author(s): Amanda Deibert
Artist(s): Megan Huang
Cover Artist(s): Tom Fowler
Colorist: Megan Huang
$3.99US | 32pages | 6-5/8 x 10-3/16 | Comic Book | 76156800951401111
On Sale: 2023-11-22
Trapped behind enemy lines! Surrounded on all sides by deadly battle droids! All in a day's work for the Bad Batch!
While investigating reports of strange modified battle droids, the squad find themselves at the mercy of a sinister Separatist scientist, who plans on using the team as a part of his twisted experiments. Caught in a lethal game of cat and mouse, this mission may prove too dangerous even for the Bad Batch!
Mad science and mayhem abound, in Star Wars: Hyperspace #11!
Subgenre #3 (CVR A) (Wilfredo Torres)
Author(s): Matt Kindt
Artist(s): Wilfredo Torres
Cover Artist(s): Wilfredo Torres
Colorist: Bill Crabtree
$7.99US | 24pages | 8 x 10-3/16 | Comic Book | 76156801111100311
On Sale: 2023-11-29
From the New York Times bestselling creators of BANG! comes a mind-bending, multi-dimensional murder mystery presented in a pulp magazine-sized format!

Our hero realizes he's been jumping through dimensions, between the ancient world of sword and sorcery to the high-tech cyberpunk dystopia, he is determined to discover his original world—his one true birthplace and reality.

Subgenre is the latest release from Flux House Books, a new boutique imprint that will feature the writing (and sometimes) art of acclaimed comics creator Matt Kindt, with crime, science fiction, horror, and humor stories, all told and presented in startling and untraditional ways.
The Witcher: Wild Animals #3 (CVR A) (Nataliia Rerekina)
Author(s): Bartosz Sztybor
Artist(s): Nataliia Rerekina
Cover Artist(s): Nataliia Rerekina
Letterer: Hassan Otsmane-Elhaou
Colorist: Patricio Delpeche
$3.99US | 32pages | 6-5/8 x 10-3/16 | Comic Book | 76156801110400311
On Sale: 2023-11-29
Blood has been spilt on both sides of the conflict. With the two factions guilty of murder and seeking Geralt's skills for revenge, justice is no longer an option.