Boom May 2023 Solicitations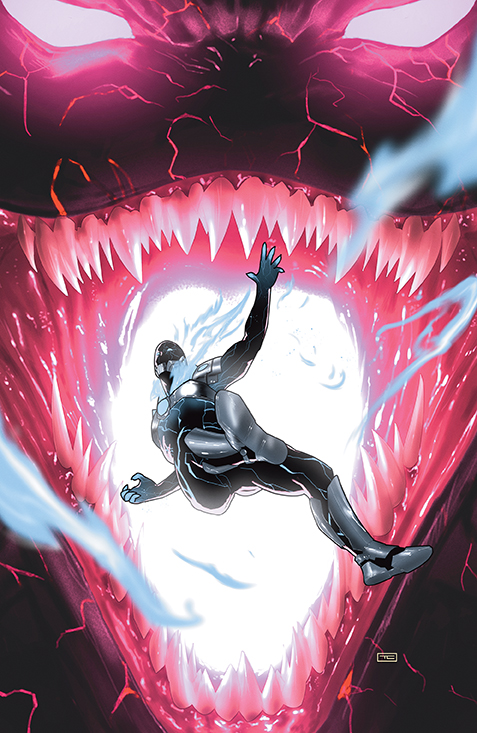 Boom May 2023 Solicitations
The Boom May 2023 solicitations are here! New volume of Wynd, Power Rangers, Buffy, and more!
Common abbreviations
TP/TPB: Trade Paperback
SC: Softcover (like a TPB)
HC: Hardcover
FC: Full Color
DM: Direct Market. This refers primarily to comic book stores or online shops that order via the same means as a comic book store (primarily Diamond or Lunar). Places like Amazon or Barnes and Noble will generally NOT have these variants.
FOC: Final Order Cutoff – The time an order has to be submitted by the vendor. Also when you need to get your order in by at TalesofWonder for preorders.
RES: Resolicit – A new listing for a product that was previously solicited in PREVIEWS or New to Order, and which is being listed anew since the original Solicitation was cancelled either by the vendor or by Diamon
O/A: Offered Again – This designates an item that has been previously solicited and released, but is being solicited again.
ALL DATES ARE SUBJECT TO CHANGE DUE TO PAPER SHORTAGES, PRINTER JAMS, AND SHIPPING CONFLICTS.
Wynd Book Three: The Throne in the Sky HC (DM only)
Retail Price: $19.99
Writer: James Tynion IV
Artist: Michael Dialynas
Cover Artist: Michael Dialynas
The land of Esseriel is a darker and more dangerous place than ever, as tensions between the Human and
Faerie realms build to the brink of war. Could Wynd be the only hope for peace?
Danger, betrayal, and even some romance confront our heroes at every turn, while elsewhere, the Duke
makes murderous plans of his own. Things seem dire, but help from an unexpected figure might just be the lifeline Wynd and Merien need… even though the final battle draws near.
The Eisner and GLAAD-nominated Wynd saga continues in this hardcover volume exclusively for comic
shops from Eisner Award-winning writer James Tynion IV (Batman, Something is Killing the Children) and
artist Michael Dialynas (Teenage Mutant Ninja Turtles), the GLAAD Award-winning creative team behind
The Woods.
Collects Wynd: The Throne in the Sky #1-5.
Magic: Soul and Stone HC
Retail Price: $24.99
Writer: Seanan McGuire
Artist: Kath Lobo, Lea Caballero, Giuseppe Cafaro, Nori Retherford, Jacques Salomon, & Michael Shelfer
Colorist: Raúl Angulo, Alejandro Mejías, Gloria Martinelli, Natalia Nesterenko, Protobunker's Fernando Sifuentes, & Kieran Quigley
Cover Artist: Junggeun Yoon
Fan favorite Planeswalkers Ajani Goldmane and Nahiri The Lithomancer take center stage!
In this deluxe hardcover collection, experience two standalone tales each spotlighting a beloved Magic: The Gathering character. First, delve into Ajani Goldmane's past adventures and uncover stunning surprises, including what happened when the steadfast, valiant protector faced threats beyond his capabilities!
Meanwhile, Nahiri has protected her home plane of Zendikar for centuries, her ruthlessness and power kept in check by a strong sense of justice. But a new challenge awaits that may change the way the Multiverse perceives her…
Nebula, Hugo, Locus, and Alex Award-winning novelist Seanan McGuire ( Ghost-Spider) returns to the
world of Magic: The Gathering with artists Kath Lobo (Go Go Power Rangers), Jacques Salomon
(Lovecraft: Unknown Kadath), Giuseppe Cafaro (Red Sonja), Lea Caballero (Just Beyond), and Michael
Shelfer (The Vampire Slayer) to bring Ajani Goldmane and Nahiri the Lithomancer to comics!
Collects Magic: Ajani Goldmane #1 and Magic: Nahiri the Lithomancer #1.
Grim Vol. 2 SC
Retail Price: $14.99
Writer: Stephanie Phillips
Artist: Flaviano
Cover Artist: Flaviano
The Next Chapter of the Bestselling Supernatural Series Unveiling More Secrets of the Afterlife!
In her continuing macabre journey as a grim reaper, Jessica Harrow is still trapped in Las Vegas with fellow reapers Eddie and Marcel, where they encounter a fabulous twist on mythical Greek figures, as well as someone with the authority to get them out of their phantasmal dilemma.
Jess' means of moving between the world of the living and the realm of the dead has also gone amok.
When everyone becomes marked for death but no one is dying, the consequences could be catastrophic!
Will Jessica find a way to return to the Afterlife and take her rightful place atop the throne? Or will Adira
solidify her control, now that she's finally in possession of Death's scythe?
From acclaimed writer Stephanie Phillips (Harley Quinn) and fan favorite artist Flaviano (New Mutants)
comes a bold new vision of what comes after, and the nature of death itself!
Collects Grim #6-10.
Once Upon a Time at the End of the World Vol. 1 SC
Retail Price: $17.99
Writer: Jason Aaron
Artist: Alexandre Tefenkgi & Nick Dragotta
Colorist: Lee Loughridge & Rico Renzi
Cover Artist: Mike del Mundo
The First Chapter of a Post-Apocalyptic Fable Trilogy For Fans of Saga!
"Love in the Wasteland" kicks off the first arc of this epic trilogy that spans a lifetime as the dark mysteries
of a ruined world and their own stark differences tear at the threads holding Mezzy and Maceo together.
As they endure the horrors of plastic tornadoes and frozen sludge, Maceo proves to be more than just a burden, and they make an unlikely connection. But to their peril… they might not be as alone as they thought…
New York Times bestselling, Eisner and Harvey Award-winning writer Jason Aaron ( Thor, The Avengers,
Southern Bastards) launches his most ambitious original series to date with three distinct artistic partners – Eisner Award-winning artist Alexandre Tefenkgi ( The Good Asian), acclaimed artists Leila del Duca
(Wonder Woman: Tempest Tossed, Sleepless), and Nick Dragotta (East of West, Ghost Cage) – to take on a
vision of the end of the world that's brutal and nostalgic, whimsical and grounded… and ultimately,
timeless.
Collects Once Upon A Time At The End Of The World #1-5.
Eve: Children of the Moon SC
Retail Price: $17.99
Writer: Victor LaValle
Artist: Jo Mi-Gyeong
Colorist: Brittany Peer
Cover Artist: Ario Anindito
A new chapter of the bestselling Afrofuturist adventure, perfect for fans of Little Monsters!
Eve already saved the world once, embarking on a perilous quest to protect what remained of humanity
after a deadly virus outbreak… but the story continues!
Selene, a source of hope for the many children that flocked to her rest stop, resents Eve, Eve's sister, and
Wexler. The conflict amongst them and the survivors is dire… even sowing the potential for civil war.
But an A.I. with terrifying origins from deep beneath the sea brings new revelations about the threats they face… not only of earth, but beyond.
Eve and her companions face new challenges and a darkness from their past in this exciting sequel series
from award-winning author and lauded professor Victor LaValle (The Ballad of Black Tom, Victor LaValle's
Destroyer) and returning Eve artist Jo Mi-Gyeong (The Dark Crystal: Age of Resistance).
Collects Eve: Children of the Moon #1-5.
Complete Incorruptible by Mark Waid, The SC
Retail Price: $49.99
Writer: Mark Waid
Artist: Jean Diaz, Horacio Domingues, Marcio Takara, and Damian Couceiro with Belardinao Brabo, Michael Babinski, and Juan Castro
Colorist: Andrew Dalhouse and Nolan Woodard
Cover Artist: John Cassady and Laura Martin
A Modern Super Hero Classic Turned Upside Down!
Super villain Max Damage had an epiphany the day his nemesis, The Plutonian, destroyed Sky City.
When The Plutonian turned his back on humanity, Max Damage decided to step up. Now, Max Damage has turned from his formerly selfish ways–but Max quickly learns how difficult the path of a hero is when the world still thinks you're a super villain.
The companion series to the Eisner-nominated smash hit Irredeemable is collected in an updated volume
with a new foreword by musician and filmmaker Jeymes Samuel (The Harder They Fall), as writer Mark
Waid (Daredevil, Kingdom Come) and a team of artists including Jean Diaz and Marcio Takara (Captain
Marvel) examine the hard, difficult road to changing your ways and making a difference in the world.
Collects Incorruptible #1-30 and Irredeemable #33-34.
Buffy the Vampire Slayer: The Lost Summer #1
Retail Price:$7.99
Writer: Casey Gilly
Artist: Lauren Knight
Colorist: Francesco Segala
Cover Artist:
A: Main Cover: Mirka Andolfo
B: Variant Cover: Veronica Fish
C: Incentive Cover (1:10): Mirka Andolfo
D: Incentive Cover (1:15): Paulina Ganucheau
E: Unlockable Cover (1 copy): Veronica Fish
A standalone special set in the continuity of the TV series!
Spike is determined to keep the last copy of his embarrassing poetry from being discovered, sending Buffy and the Scooby Gang on a faux-supernatural goose chase to New Orleans to cover his tracks.
At an antiques fair, the group is fascinated by The Casquette Girls' clothes on display.
When Dawn utters a wish she most likely should have kept to herself, the gang gains a firsthand account of the sisters' identities… beyond what they could have imagined.
Buffy, The Last Vampire Slayer writer Casey Gilly is joined by Golden Rage artist Lauren Knight, bringing
fans a historically fun and frightful one-shot to sink their fangs into!
Ghostlore #1
Retail Price: $4.99
Writer: Cullen Bunn
Artist: Leomacs ; Brian Hurtt
Cover Artist:
A: Main Cover: Leomacs
B: Variant Cover: Brian Hurtt
C: Spot UV Ghost Variant: Tonči Zonjić
D: Incentive Cover (1:10): Brian Hurtt
E: Incentive Cover (1:25): Reiko Murakami
F: Incentive Cover (1:50): Jenny Frison
G: Unlockable Cover (1 copy): Leomacs
A new supernatural ongoing series for fans of Killadelphia and Bone Orchard: Black Feathers!
We've all heard of ghost stories… but what stories do the ghosts themselves tell us?
An estranged daughter and her pastor father wander a haunted land; they only have the restless spirits, each with its own story to tell, as company along the way.
After a deadly accident of which they were the only survivors, Lucas and Harmony Agate can see the
dead–an overwhelming amount of the deceased, all with their own warnings, cries for help, and
malevolence alike.
But Lucas and Harmony aren't the only ones with this ability; there are other nearly-deads, some of which
have malicious motivations…
Cullen Bunn of Basilisk and The Empty Man acclaim is joined by superstar artist Leomacs (Basketful of
Heads) and guest artist Brian Hurtt (The Sixth Gun)—the first in a haunting lineup of artists featured in
each issue–to bring readers the most eye-opening spectral story since The Sixth Sense!
This 12-issue series is the newest BOOM! Studios collaboration with Cullen Bunn, with issue #1 featuring
a special Spot UV Ghost Variant!
Grim Reaper Pack #1
Retail Price: Main Cover: $39.99
Writer: Stephanie Phillips
Artist: Flaviano
Cover Artist: Dave Johnson
Whether you missed out on the widely sold out early issues of Grim or are just an avid collector, this
limited edition Grim Reaper Pack of #1-5 will never be resurrected with a reprint, so don't let it slip away
into the afterlife!
Featuring 5 brand new, exclusive covers by acclaimed artist Dave Johnson (Detective Comics, 100 Bullets),
Jessica Harrow's introduction has never looked so alive!
House of Slaughter #15
Retail Price: $3.99
Writer: James Tynion IV & Tate Brombal
Artist: Antonio Fuso & Werther Dell'Edera
Colorist: Miquel Muerto
Cover Artist:
A: Main Cover: Mateus Manhanini
B: Main Cover: Werther Dell'Edera
C: Connecting Cardstock Cover: Danny Luckert
D: Incentive Cover (1:25): Danny Luckert
E: Incentive Cover (1:50): Mateus Manhanini
F: Incentive Cover (1:75): Sebastian Fiumara
G: FOC Reveal Cover: TBA
H: Unlockable Cover (1 copy): Werther Dell'Edera
In the final issue of the third story arc, Jace will have to make a difficult choice between vengeance and
rescuing Sunny from the White Masks!
But just as Sunny has to deal with the monster within, Jace unleashes his rage in a more terrifying way than the children have ever witnessed…
Seasons Have Teeth, The #2
Retail Price: $4.99
Writer: Dan Watters
Artist: Sebastian Cabrol
Cover Artist:
A: Main Cover: Qistina Khalidah
B: Incentive Cover (1:25): Sebastian Fiumara
C: FOC Reveal Cover: TBA
Summer, the most chaotic and destructive of all seasons, creates a flood of refugees and international
tensions, with Andrew as the newly-acclaimed photographer there to document the onslaught.
But it's not just the monstrous season that brings chaos, as human prejudice and hatred heats up, bringing up painful memories of Andrew's past conflict photography.
With his dreams and finite life waning, Andrew is determined to capture the perfect shot… even if there's a risk of it being his last.
Neighbors, The #3
Retail Price: $4.99
Writer: Jude Ellison S. Doyle
Artist: Letizia Cadonici
Colorist: Alessandro Santoro
Cover Artist:
A: Main Cover: Miguel Mercado
B: Homage Variant Cover: InHyuk Lee
C: Incentive Cover (1:15): DANI
Janet finds trouble with the locals as she becomes aware of a suspicious lack of children in town… while
Cunnanock's picture-perfect visage falls apart…
Meanwhile, supernatural threats aren't the only worries on Oliver's mind, as suspected transphobia in town threatens his well being, and the palpable strangeness of Agnes's house draws Isobel in.
Harrower #4
Retail Price: $4.99
Writer: Justin Jordan
Artist: Brahm Revel
Colorist: Brahm Revel
Cover Artist:
A: Main Cover: Brahm Revel
B: Incentive Cover (1:15): Maria Wolf
The FINAL ISSUE of the urban legend slasher series like no other!
Every secret comes to light as Jessa is confronted with the horrible truth of the figures behind everything!
As she faces the Harrower in a final showdown, her fate seems inevitable.
Can she escape becoming what she fears most?
Mosely #5
Retail Price: $4.99
Writer: Rob Guillory
Artist: Sam Lotfi
Colorist: Jean-Francois Beaulieu
Cover Artist:
A: Main Cover: Sam Lotfi
B: Variant Cover: Rob Guillory
C: Incentive Cover (1:10): George Kambadais
D: Incentive Cover (1:25): InHyuk Lee
E: Unlockable Cover (1 copy): Sam Lotfi
F: Unlockable Cover (1 copy): Rob Guillory
The FINAL ISSUE of tech-smashing fury!
After what seemed like the final battle, Mose and family discover the sinister, ancient force behind the Tech Gods themselves!
While Mosely and Gloria have to fight the internal demons of their past, they face a very tangible demon,
alien and arcane, with a dark link to human history.
However, even if they succeed, what will their victory mean for the human race, when they've been reliant
on AI for so long?
Mighty Morphin Power Rangers #108
Retail Price:$3.99
Writer: Melissa Flores
Artist: Marco Renna
Colorist: Francesco Segala
Cover Artist:
A: Main Cover: Taurin Clarke
B: Variant Cover: Suspiria Vilchez
C: Action Figure Incentive Cover (1:10): Bon Bernardo
D: Incentive Cover (1:25): Suspiria Vilchez
E: Unlockable Cover (1 copy): Taurin Clarke
In the past, Rita retrieves the mysterious Vessel with one of her close allies, who is shocked to discover The Vessel's true identity!
In a chain of emotional events, The Vessel himself will have to contend with where his allegiance will lie in
the end. Will he be friend or foe for the Mighty Morphin Power Rangers?
Expanse, The: Dragon Tooth #2
Retail Price: $4.99
Writer: Andy Diggle
Artist: Rubine
Cover Artist:
A: Main Cover: Christian Ward
B: Variant Cover: Junggeun Yoon
C: Incentive Cover (1:10): Ethan Young
D: Incentive Cover (1:25): Dan Mora
The stellar expansion and continuation of The Expanse continues in the only place fans will find new
adventures!
In a time of great strife and subterfuge, Sohiro, Roki, Avasarala, and other key players make their way in
the breadth of cosmic colonialism and piracy.
But, a long-hidden threat lurks in waiting… connected to threads from the past that will change the future
forever.
Superstar writer Andy Diggle (Hellblazer) and highly acclaimed artist Rubine (Astronaut Down) continue
the epic, 12-issue continuation of the highly celebrated sci-fi franchise The Expanse!
Dune: House Harkonnen #5
Retail Price: $4.99
Writer: Brian Herbert & Kevin J. Anderson
Artist: Fran Galán
Colorist: Patricio Delpeche
Cover Artist:
A: Main Cover: Raymond Swanland
B: Variant Cover: Reiko Murakami
C: Incentive Cover (1:10): Raymond Swanland
D: Incentive Cover (1:25): Jeremy Bastian
E: FOC Reveal Cover: TBA
F: Unlockable Cover (1 copy): Raul Allen
Chaos ensues across planets as Gurney stages a tense rescue mission, while Liet and Warrick are forced to make a difficult choice, and Leto regrets putting the young Victor in danger's way on Caladan.
Meanwhile, the recapture of Ix turns explosive, and the Bene Gesserit prepare for the presentation of a
fateful person in Leto's life to come…
Vampire Slayer, The #14
Retail Price: $4.99
Writer: Sarah Gailey
Artist: Kath Lobo
Colorist: Valentina Pinto
Cover Artist:
A: Main Cover: Skylar Patridge
B: Variant Cover: Yoshi Yoshitani
C: Incentive Cover (1:10): Skylar Patridge
Buffy's relationship with Giles remains strained, but they work together to repair things as Buffy is
determined to take back her identity as The Slayer!
Meanwhile, Willow gets a better handle on her immense power, and just in time… as the Crab God grows
in power from its infantile form…